BEAUTIFUL PUPPETRY COMES TO LIFE IN A SPECIAL STORY! IN OUR JOHN & NANCY HUGHES THEATER
CREATED BY MERMAID THEATRE OF NOVA SCOTIA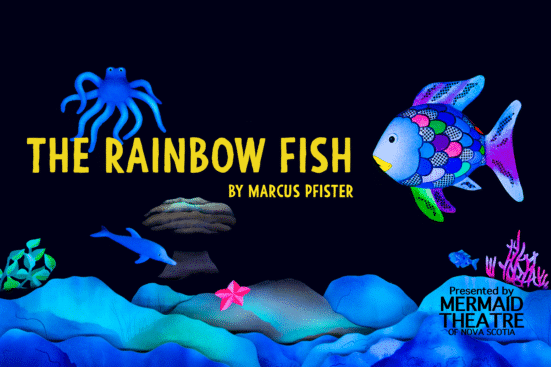 "The sparkling story that became an international publishing phenomenon!" Mermaid Theatre of Nova Scotia's elegant new show, The Rainbow Fish, will include an original stage adaptation of Marcus Pfister's colourful story as well two of the author's companion tales, Rainbow Fish Discovers the Deep Sea and Opposites. Mermaid Theatre has earned international acclaim for its unique interpretations of the works of Eric Carle (The Very Hungry Caterpillar), Leo Lionni (Swimmy, Frederick & Inch by Inch) and Sam McBratney (Guess How Much I Love You). These widely-travelled productions incorporate innovative puppetry, striking scenic effects, and evocative original music to provide very young audiences with an effortless introduction to the performing arts and the excitement of reading. The Rainbow Fish features these same elements.
The Rainbow Fish will enchant even the youngest child with his silver scales and heart of gold in this award-winning book about the beautiful fish who learned to share his most prized possession. Mermaid Theatre of Nova Scotia brings The Rainbow Fish to life with their enchanting puppetry.
Suggested for Grades Pre-K-3 and Family Programming
Patrons: Purchase our 2023/24 Family Event Bundle and save! Package includes:
Little Miss Ann 9/10/2023
Lambchop with Mallory Lewis 10/21/2023
Rainbow Fish 1/6/2024
Gorton Center will take and may use photos and videos from this event for its promotional purposes. Your attendance indicates your consent to the above.
There is no refund given for unused film or event tickets.