Hand drumming has a rich history in Guinea, West Africa, dating back to the 13th century. The drum was a central part of everyday life and was used for communication, religious ceremonies, and entertainment.
Helen Bond will share the great joy of traditional hand drumming! Helen has been traveling to Guinea for the past 21 years to study their music and culture. In this class, you will learn basic rhythms on dunun drums and the djembe accompaniment parts. You will also learn the origins of each rhythm, receive expert instruction on all instruments in the traditional djembe orchestra and deepen your understanding of the place of music, dance, and song in West African life.
Helen is able to work simultaneously with students of all levels – from beginner to professional. All levels are welcome! Drums will be provided should you not have one. No experience is needed.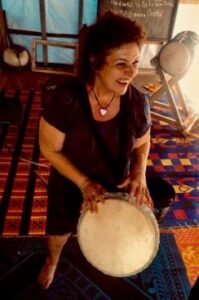 Dunun drums, also known as djun-djun drums or talking drums, are a family of West African bass drums that are played with sticks. They are commonly used in the traditional music of the Malinke people of Mali, Guinea, and other parts of West Africa. Dunun drums consist of three to five cylindrical drums of different sizes, each with a different pitch, and are typically played in ensembles with other percussion instruments such as the djembe and the balafon. They are often used to provide the bassline in West African music and are known for their deep, resonant sound. Dunun drums are an important part of the cultural heritage of West Africa and are widely used in both traditional and contemporary music.
The djembe, a rope-tuned skin-covered goblet drum played with bare hands, is thought to have originated from the Mandinka people in Guinea. The djembe was traditionally played by men and was used to accompany traditional dances and songs. The drum was also used as a tool for communication, with different rhythms representing different messages.
Today, Guinean hand drumming remains popular both within Guinea and around the world. Many musicians and enthusiasts travel to Guinea to study with master drummers and to immerse themselves in the rich cultural heritage of Guinean hand drumming.