Friday night concert timeline:
7:00-8:15 PM concert (no intermission)
8:15-8:45 PM conversation with artists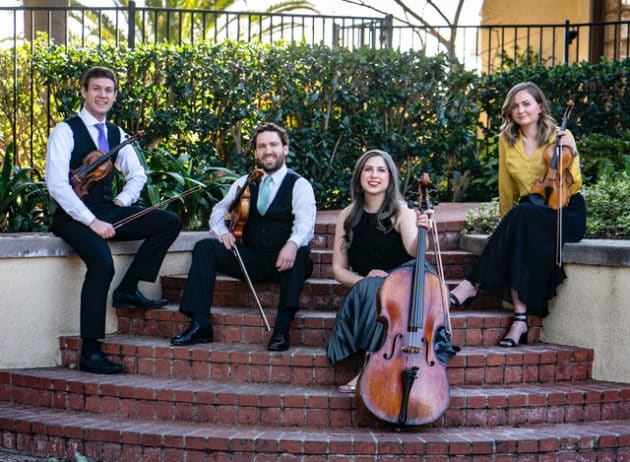 New to Rendezvous Arts, the Kontras Quartet has been described as "a tightly crafted and beautiful instrument" (CVNC Arts Journal) and has been commended by Gramophone Magazine for their "scrupulous shading and control" and "enjoyable musical personality" (Fanfare Magazine). Kontras means "contrasts" in the Afrikaans language – fitting for a string ensemble whose colorful repertoire spans centuries, genres, and continents. The Quartet's recent engagements include tours of South Africa and Switzerland; broadcasts on Performance Today and a three-month residency with Chicago's WFMT 98.7 FM; appearances on NBC and PBS; and sold-out performances in San Diego, Chicago, Washington D.C., Telluride, Salt Lake City, Raleigh and Arizona. The Kontras Quartet records for MSR Classics and DoubleTime Music, and have released three critically acclaimed albums. Watch the video below for a sneak peek at the treat that this performance will be! 
Rendezvous Arts is a chamber music and visual arts series started by several of the musicians of the Lake Forest Symphony. When the orchestra sadly folded, they wanted to find a way to continue to play for the friends that they had made from the Symphony's audience – and so the plan to continue the orchestra's Salon Series chamber music program was born.
Visual Artist painter Lewis Achenbach
Visual artist/painter
Lewis Ackenbach
is also new to
Rendezvous
and we couldn't be more excited to watch him paint as the
Kontras
Quartet
performs. "Color, movement, expressivity, freedom of gesture are attributes shared by painting and jazz as both art forms evolved since the early 20th Century. Modernists creating visual art famously including Jackson Pollock, Stuart Davis and Piet Mondrian were inspired by live performances and recordings of improvisational music. Lewis Achenbach is of that lineage, but goes beyond their responses ad references by making paintings in the very time and place that the inspirited sound spills forth. Daring to take risks as spontaneously as the musicians he admires, Achenbach is both observer and participant in their play, painting in public view while they perform. He simultaneously documents, abstracts, idealizes and subjectifies what he sees, hears and feels, resulting in works as joyously polyphonic as this music with its long Chicago legacy and rich contemporary presence. Line and mass are like melody and harmony in these pictures, reverberant with the passion and commitment that imbue jazz and painting alike."