Radius is an all-male identifying vocal ensemble, hailing from different corners of the country. Radius was formed in the midst of the global pandemic with the intention of creating top-tier virtual content and bringing some light to the world during the lockdown period. After working on virtual projects for several months, the group started to hit their stride and was fortunate enough to spend a week together in Chicago that summer, where their debut EP, Silver Lining, was created. From that point on, it was apparent that Radius was more than just a quarantine passion project: it was a group of talented, passionate, and hardworking friends who wanted to take their artistry to the next level. Radius released a single in September called Remember This to commemorate their first chapter as a band. Now, Radius has transitioned to a 5 member group and is now "living the dream" in Chicago!
Radius prides itself on creative and high-level performances of a cappella arrangements of songs that you've heard and loved on the radio! From oldies to jazz standards to pop ballads to R&B uptempo, Radius has experience performing in every style. Dubbed "a cappella's favorite boyband", the group uses influences from artists like the Real Group, Boys II Men, Pentatonix, and VoicePlay when performing, and we guarantee both high-quality music as well as a show that people will love!

Dylan is the bass and vocal foundation for Radius. He studied music business at both the University of Miami and at Berklee College of Music. Dylan has sang with a cappella groups during his time in school like TAG, BisCaydence and Distilled Harmony. Along with Gabe, Dylan also placed 2nd at the International Competition of College A Cappella Finals in 2019.
Dylan has always been a business mind from a young age, starting 3 different music micro agencies before the age of 20. He has performed at venues like Carnegie Hall, the Kennedy Center and American Airlines Arena. Raised in Florida, he knew that he wanted to pursue music since he was young, despite being really shy and not as outgoing as most of the musicians around him. He currently functions as one of the arrangers for Radius as well as serving as business manager.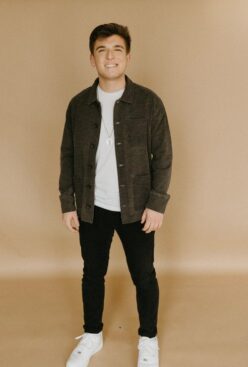 Gabe Schonman is a recent graduate from the Frost School of Music at the University of Miami with a degree in Jazz Voice Performance. Gabe, a Chicago native, is grateful to be back in the Windy City, but now making a living as a musician! In day to day Radius life, Gabe handles musical responsibilities and takes pride on always being heard from a mile away whether you want to or not!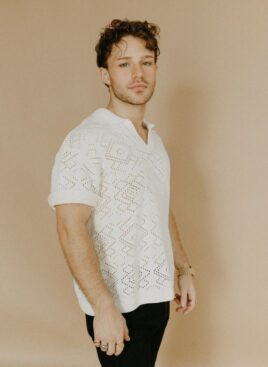 Ethan Mooney is a Chicago-based performer and audio engineer known for his genre-bending solos and dedication to storytelling. Hailing from the land of horses and bourbon, Ethan graduated cum laude with a Bachelors of Fine Arts in Vocal Performance from the University of Kentucky in his hometown of Lexington, Kentucky. Working closely with Sam and Ben, Ethan rounds out the group's self-production capabilities, collaborating closely to produce all of the content you see online as well as running live sound during performances.
Ethan has been closely involved in the a cappella community since high school, winning a Contemporary A Cappella Recording Award in 2017 for his arrangement and solo of "Boys in the Street" by Greg Holden. He went on to be a member of the University of Kentucky Acoustikats before dedicating himself to Radius exclusively. Ethan's favorite part of being in the group is being able to grow, travel, explore, and make memories around the world with his best friends. In his free time, you'll find Ethan voraciously reading, obsessively listening to podcasts, and making TikToks much to the dismay of his roommates Ben and Gabe.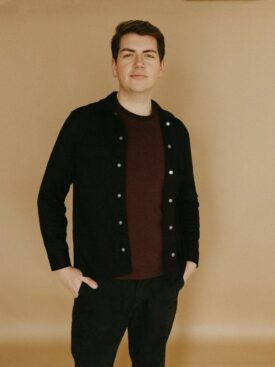 Ben (the tall one) excels as the group's primary visual eye, showcasing his expertise through Radius photoshoots, music videos, and social media. He always makes sure the guys are looking their best and feeling as confident as possible on stage. When he's not brainstorming ideas for the next series of Radius TikToks, you'll find him cuddling up with his cat Veto, watching one of his favorite Disney movies with a Starbucks latte in hand.
Anyone who has met Ben knows that his personality never fails to light up the room and offer the perfect dose of positivity and humor. It's this attitude that keeps Radius going strong as the group becomes busier with gigs and spends more time away from home. Whether the group is having a fun night out, or buckling down to prepare for the next gig, Ben never shies away from initiating a much needed group hug.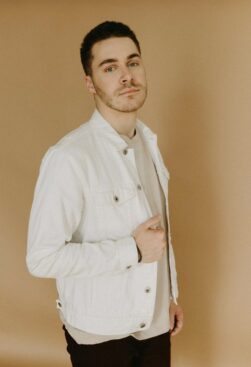 Along with being the group's primary vocal percussionist, Sam contributes through arranging and audio production. One of his favorite parts of Radius is having the opportunity to travel and perform in new places. Considering he is an avid 'Pokémon Go' player, this also gives him a chance to truly, "catch em' all." However, no amount of Pokémon caught or cities visited can fill the hole in his heart when he has to leave his beloved girlfriend and their sweet baby kitten behind.
Outside of Radius, Sam is a dedicated student of psychology. Building on his degree in psychology, he spends his free time immersing himself in books and podcasts, focusing on topics like personality, relationships, and group dynamics. It's through these studies that he is able to offer a unique perspective to the group, always looking for opportunities to strengthen their connection with each other and their audiences.