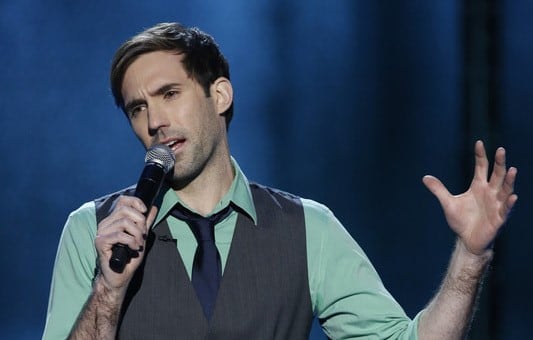 Michael Palascak
"Just as funny offstage as on, which is like magic." – Norm Macdonald, Last Comic Standing

"Insanely smart and wildly silly." – Ali Wong

"In stand up, there is the writing, and then there is the performing. This guy nails both." – The Guardian
Michael Palascak is a comedian who grew up in Indiana and now lives in LA. He performed on both The Late Late Show with James Corden and The Late Show with Stephen Colbert in the same year. He has over 1 million views on YouTube . In addition, his resume includes A Little Late with Lilly Singh, The Tonight Show,  Letterman,  Craig Ferguson,  Conan, has a Comedy Central Half Hour special, and was a  Top 5 Finalist on Last Comic Standing  where one judge claimed, "My first impression of Michael was a great likability.  This is a guy that could star in a sitcom." Michael's likability allows him to relate to his audiences in a real way which sets up the huge laughs he gets from his sharp, personal material. Consistently writing and performing, this summer Michael released both a new album— The Internet Live through 800 Pound Gorilla and a new stand-up special on the Dry Bar app— 1984. Drew Hunt of The Chicago Reader wrote about Michael, "In a lot of ways, he represents the ideal antidote to the sort of unbridled cynicism that pervades much of contemporary stand-up." Michael's optimism continues in the new National Lampoon series — The Bright Side where he takes a positive stance on a negative topic streaming on YouTube.
Gorton Center will take and may use photos and videos from this event for its promotional purposes. Your attendance indicates your consent to the above.
Film and Event Refund and Cancellation Policy: There is no refund given for unused film or event tickets.
By purchasing a ticket to an event at Gorton, I acknowledge the contagious nature of COVID-19 and voluntarily assume the risk that my child(ren) and/or I may be exposed to or infected by COVID-19 by attending or participating in a program, event or activity and that such exposure or infection may result in personal injury, illness, permanent disability, and death. I understand that the risk of becoming exposed to or infected by COVID-19 at Gorton may result from the actions, omissions, or negligence of myself and others, including, but not limited to, Gorton employees, volunteers, and program participants and their families. I voluntarily agree to assume all of the foregoing risks and accept sole responsibility for any injury to my child(ren) or myself (including, but not limited to, personal injury, disability, and death), illness, damage, loss, claim, liability, or expense, of any kind, that I or my child(ren) may experience or incur in connection with my or my child(ren)'s attendance at Gorton or participation in a Gorton program, event or activity ("Claims"). On my behalf, and on behalf of my children, I hereby release, covenant not to sue, discharge, and hold harmless Gorton, its employees, agents, and representatives, of and from the Claims, including all liabilities, claims, actions, damages, costs or expenses of any kind arising out of or relating thereto. I understand and agree that this release includes any Claims based on the actions, omissions, or negligence of Gorton, its employees, agents, and representatives, whether a COVID-19 infection occurs before, during, or after participation in any program, event or activity that took place at Gorton.
Artists, dates, times, prices and fees are subject to change.