They're back to open Season 4 of Rendezvous Arts with their amazing energy, 1000s of notes, and pure musical joy that only these two guitarists can bring! They are always a Rendezvous Arts Favorite and have sold out in the past – come and you'll see why!
Inspired by the rhythms and melodies of flamenco, jazz, classical, rock, and the Balkan region, this performance features the unrivaled guitar artistry of two of the finest players of their respective generations. Their music is carefully balanced between blazing virtuosity and sheer beauty. Together, Goran Ivanovic and Fareed Haque recorded three CDs – Macedonian Blues, 7 Boats, and IndoBalkan – to great critical acclaim, even getting the nod as the top best acoustic guitar albums in 2004 from Acoustic Guitar magazine.
Friday night concert timeline
7 – 8:15 PM concert (no intermission)
8:15 – 8:45 PM conversation with artists
Concessions for sale, including beer & wine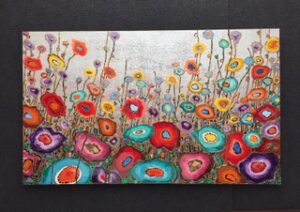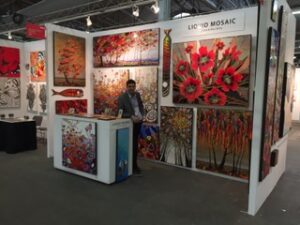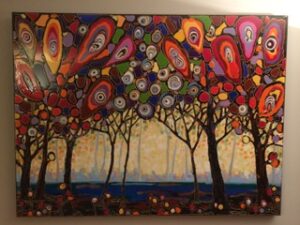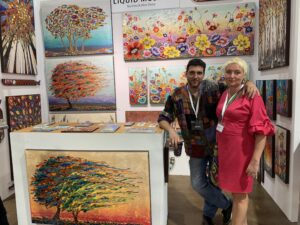 Liquid Mosiac Art by Inna and Alex Deriy
Inna is originally from the South Western part of  Siberia. She was born in a family of geologists and from the first days of her life was surrounded by the romanticism of scientific expeditions and the beauty of Siberian nature. Inna graduated from one of the most prestigious art schools of the region in the mid 90's and tried herself in graphic design and jewelry making,  participating in multiple projects and exhibitions.  In 2004 Inna relocated to the USA and married Alex Deriy, and engineer by day and artist and musician by night.
Moving away from home and traditional oil and pastels Inna joined her creative forces with her husband Alex. They started developing a new technique of painting with pigmented polymers and tried applying it to stone, glass, canvas and wood.  Stained glass look of her newly developed works slightly resembles warm and earthy collages made of natural stones that Inna's parents used to bring back from their geological expeditions. Natural beauty of minerals has always been the couple's main inspiration.
This is part of Rendezvous Arts Series
Gorton Center will take and may use photos and videos from this event for its promotional purposes. Your attendance indicates your consent to the above.
There is no refund given for unused film or event tickets.