Rolling weekly art classes every Wednesday with Joalida in her art studio designed specifically for teens age 12-17.  These sessions will guide your teen to find their unique voice and individual style. Bring your own ideas or work on a contemporary portrait from materials in my studio. We will explore different mediums, techniques and genres  in a fun supportive environment, where your budding artist can develop and grow at their own pace.. No class on November 22.
Why take an art class?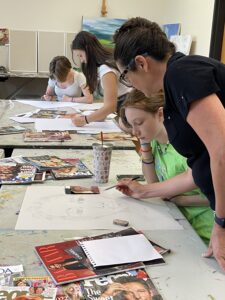 Teens can benefit from taking an art class for a variety of reasons. It supports cognitive and emotional development. In particular, it facilitates executive functioning through planning and organising ideas and solving problems as they emerge during the process.  It is a stress-release and can be therapeutic,providing a unique way for teens to communicate thoughts, emotions, and ideas that might be difficult to express through words alone. It builds self-esteem, facilitates personal growth and social-emotional development as budding artists develop their skills in the presence of others.
Regardless of their career aspirations, engaging in artistic activities within a class environment can contribute to a teen's overall personal development and well-being.
Photo credit of Joalida: James Gustin