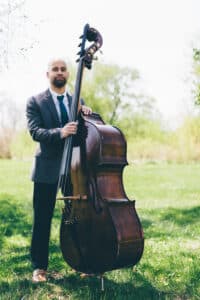 Christian Dillingham Jazz Quartet
A native of Brookfield, Ohio, Dillingham played in rock and jazz bands throughout high school. He became serious about music as a career while at Youngstown State University, studying under the instruction of Tony Leonardi and Micah Howard. After graduating with a Bachelor's of Music degree in Music Performance with an Emphasis on Jazz, Dillingham's education continued at Duquesne University in Pittsburgh, where he worked with Jeffrey Turner, principal bass of the Pittsburgh Symphony, and subsequently received a Master's of Music degree in Music Performance. He also attended the National Repertory Orchestra Festival in Breckenridge, Colorado and the School for Improvisational Music in New York.
Friday night concert timeline / Concessions for sale, including beer & wine
7:00-8:15 PM concert (no intermission)
8:15-8:45 PM conversation with artists
FIBER ART BY: Pat Kroth
Originally a Chicago native, Verona Wisconsin artist, Pat Kroth creates contemporary art quilts and fiber art installations. Her work features re-purposed materials, saturated color, and improvisation, utilizing surface design, collage with found objects and energetic machine stitching.
Pat creates contemporary fiber art with machine stitched, hand-dyed and commercial fiber fragments. She is fascinated with intense saturated color with a focus on cast-off, and re-purposed materials. She creates entire surfaces of color using fiber, and textural elements. Each work is then energetically machine stitched. Pat is interested by the notion of how we assign value to things. Sometimes, humble materials play a more important role than one would imagine. She has always been intrigued with non-traditional materials. Quilts and clothing act as functional and necessary items in society for warmth, protection and comfort, adding beauty and decorative components through skillful craftsmanship. Made playfully from recycled, and cast-off materials, her work often explores the notion of need.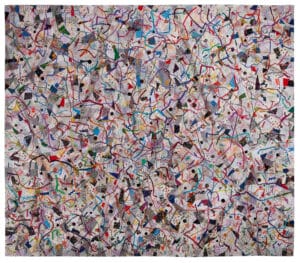 This is part of the Rendezvous Arts Series