Band of Five (PLUS 4) Woodwind Celebration 
This season at Rendezvous is the first time we will have 9 musicians performing together. Susan Saylor, flute; Deb Stevenson and Jennet Ingle, oboe; Wagner Campos and Elizandro Garcia-Montoya, clarinet; Jonathan Saylor and John Gaudette, basson; Dan O'Connell and Anna Mayne, horn. Our biggest group yet! This concert will feature one of Mozart's favorite compositions – the C Minor Serenade for 2 oboes, 2 clarinets, 2 horns, and bassoons. Also we will add flute for the Reinecke Octet.
Friday nigh concert timeline / Concessions for sale, including beer & wine
7:00-8:15 PM concert (no intermission)
8:15-8:45 PM conversation with artists
ARTIST: Weriem:
With a passion for the performing arts, an eye for detail, and a love for historical elements, Weriem likes to capture the theatricality of life. Colored pencils allow her to play with successive layers of pigments to add depth, saturation and energy to her drawings. When she uses black ink only, the striking contrast creates bold, graphic compositions. In each piece, she invites us to connect with our own imaginary theater, with sometimes, a soupçon of drama!
WERIEM known as Meriem Bahri, is a French and Tunisian artist praised for her gorgeous and evocative, spectacular and sumptuous array of period perfect costumes by the New York Times, Wall Street Journal, Chicago Tribune, respectively. With a decade of experience designing costumes for live performances (including the Royal Swedish Opera, the Boston Early Music Festival, Haymarket Opera, Opera Lafayette), her drawings have also been featured as projections during concerts, CD covers, and other commissioned illustrations. Prior to delving into the visual arts and relocating from France to her current home in Chicago, Weriem earned a PhD in science from University de Lille.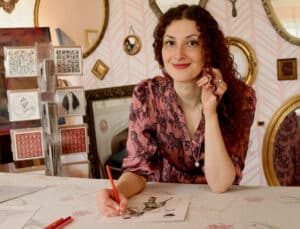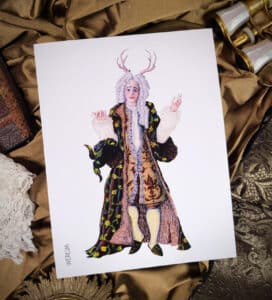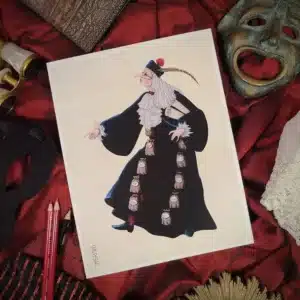 This is part of the Rendezvous Arts Series