COME CELEBRATE ST. PATTY'S DAY WITH US!
"AN AMAZING TRIBUTE BAND THAT DOESN'T JUST SOUND LIKE U2 BUT TRULY HAS THE ENERGY OF THEM. YOU WILL BE CONVINCED THAT BONO IS ONLY A FEW FEET AWAY. SPECTACULAR PERFORMANCE!" – KATHY GOUWENS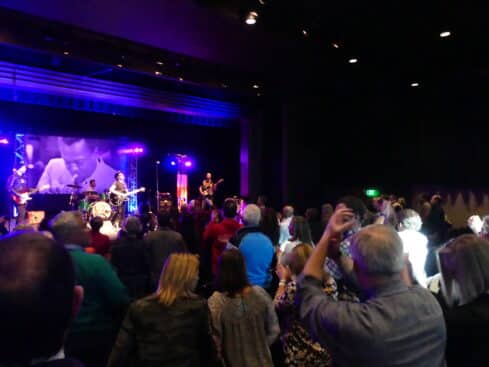 U2 Hype is the ultimate tribute to U2. Delighting fans across the country since 2001, Hype brings you the authentic sights and sounds that make U2 one of the most popular bands in the world.
Hype takes the term tribute band to an entirely new level. Night after night, they recreate the total U2 concert experience in both sight and sound. Bono look-a-like Daniel "Danno" Burrow always delivers an unmistakable and captivating performance. The band travels with all the vintage gear and the latest in costume and wardrobe. Hype brings you all your favorite U2 songs the way you are used to seeing them. Hype has made television appearances on CBS, FOX, WGN TV, and the Discovery Channel. The band has performed across the country at countless festivals, fairs, clubs, and corporate & private events with stops in the Cayman Islands, Las Vegas, Los Angeles, Chicago, Texas, Cleveland and more.
Other tribute bands can play the songs, but no other band has the look, musicianship, heart and soul that Hype delivers in their performances.
With Hype you are truly getting THE GREATEST U2 TRIBUTE BAND ON THE PLANET!!