THIS EVENT HAS SOLD OUT!
If you would like to be put on a waitlist should something come available, please call the main line at 847-234-6060.
I LOVE THE 80'S TO DEATH
A ROCKIN' RADICAL NIGHT OF MYSTERY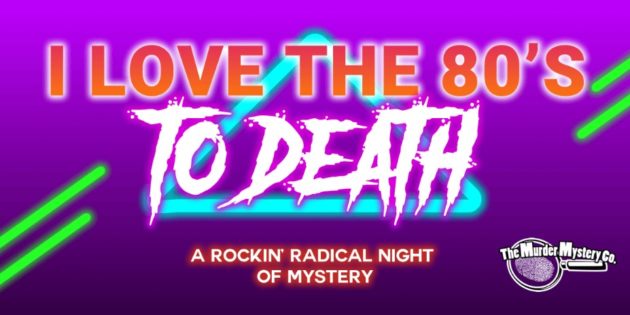 Grab your friends for a night of Mystery!  This event is the MOST fun when a costume party-so, tease those bangs, don your neon-whatever it takes to look radical, dude!  (Best costume award at the end)
Cocktails and apps: Catering by THE GALLERY LAKE FOREST  
It's the 80's again, and all of the big names are here for a big concert. Tensions run rampant as backstage secrets spill out into the spotlight with like, totally tragic results! This isn't an episode of Miami Vice! This is like…murder. It's up to you to bust it like a ghost, for sure! Peg your jeans, slouch your socks, flash some neon, put on way too much eyeliner and get that hair up! You are going to solve this crime in style. No time to be Too Shy! You are a Smooth Operator, and you know to listen to those Careless Whispers. It's time to put on your Sunglasses at Night and Relax. Time after time…You will solve the case.
-Cabaret style with candle-light
-Appetizer buffet included in ticket
-Cash bar: beer, wine and non-alcoholic drinks
-Costumes encouraged but not required!
CATERED BY THE GALLERY LAKE FOREST