THIS EVENT IS SOLD OUT!
Friday night concert timeline / Concessions for sale, including beer & wine
7:00-8:15 PM concert (no intermission)
8:15-8:45 PM conversation with artists
STEAM Traditional Irish Instrumental Ensemble with Ben Calvert, printmaker
Steam is Katie Grennan, Fiddle
John Williams, accordion
Steve Morrow, bodhran
Jeff Lindblade, guitar
They've been with Rendezvous Arts from the start – and they are definitely one of our audience favorites!!! The Steam Quartet is a powerful combo of the leading exponents of traditional Irish music from the international acoustic scene. Chicago artists John Williams, Katie Grennan, Steve Morrow and Jeff Lindblade have thrilled audiences from Shanghai to Chicago and from Paris to Pittsburgh. Concertina, fiddle, bodhran and guitar ignite to raise the rafters and warm the heart. Appearances on BBC, PBS, Dreamworks, Riverdance and with the Chieftains round out their various backgrounds and their versatility embraces dance, wit, and road-tested musical integrity. Their energy, heartwarming stories, amazing friendship and unbelievable talent will melt your heart and make your toes tap with joy!
CLICK HERE to enjoy a tune written by Katie and performed by STEAM during their Season 2 tour!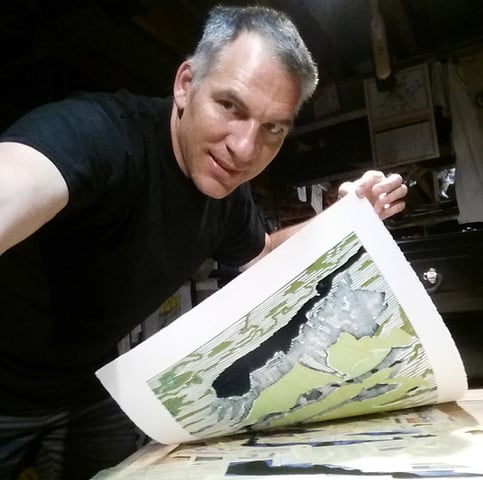 Visual Artist, Benjamin Calvert carves his art into woodblocks and then prints the images onto paper. Intrigued? You will get to witness this in action at our events! Ben will be carving before and during the concert and then printing after the music is done so you can see his art form as it happens! How exciting is that?!?
These words from Ben:  "Pulling that first print off the block is pure joy. The excitement multiplies when there are multiple blocks for each color involved. Each successive color is a layer that informs the mystery and appeal of the final image. I take much pleasure in hearing interpretations of my work from others. I enjoy creating images that are at once familiar, yet open to interpretation. The more diverse the comments, the more effective I believe my work to be." We can't wait to see what he creates at our events!!!  https://www.benjamincalvert.com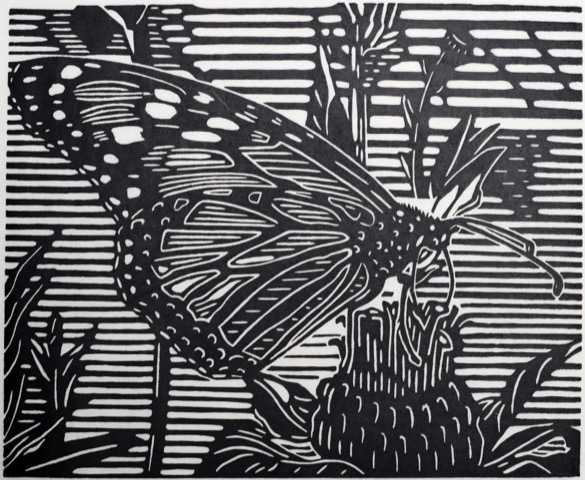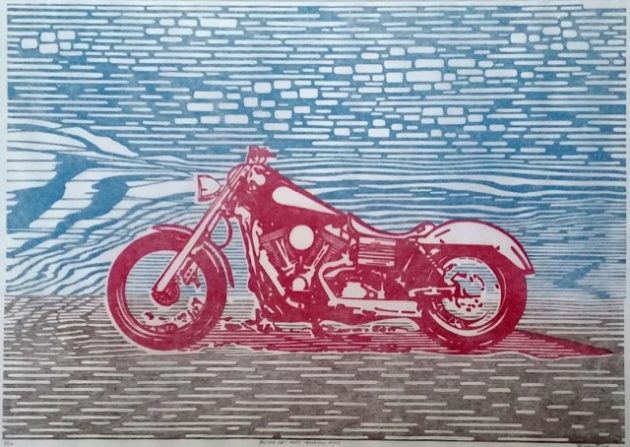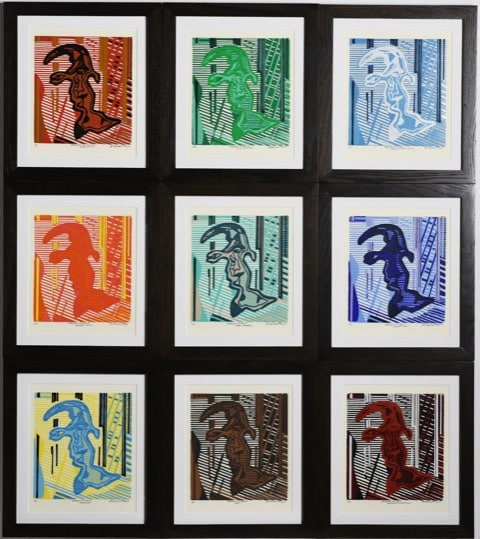 Rendezvous Arts is a chamber music and visual arts series started by several of the musicians of the Lake Forest Symphony. When the orchestra sadly folded, they wanted to find a way to continue to play for the friends that they had made from the Symphony's audience – and so the plan to continue the orchestra's Salon Series chamber music program was born.
Much gratitude to Rotary Club for being a sponsor for Rendezvous Arts! As a sponsor, your contribution is vital to continue our important work. We cannot succeed without the generosity of supporters like you. Thank you