PLEASE NOTE:
Lake Forest Book Store has let the Lake Forest Library know there has been a supply chain issue with the books they ordered for this event. Lake Forest Book Store will only be able to take care of advanced orders for the book tonight. If you would like your book signed and already own a copy, please bring it with you, or we will have slips of paper Ms. Bédat can sign and you can then insert into your book when you receive it.
Gorton is excited to collaborate with both the Lake Forest and Lake Bluff libraries and is proud to present this year's Read Between the Ravines signature author event. Join us in the Hughes Theater at Gorton for a compelling conversation between Ron Hirasawa, a marketing professor at DePaul University, and author Maxine Bédat about her book "Unraveled: The Life and Death of a Garment." By taking us inside the factories and warehouses that companies wish to keep hidden, "Unraveled" shows us how our fashion consumption fuels environmental and social inequality all over the world. Book signing to follow and Lake Forest Book Store will be on site to sell.
Lake Forest Library and Lake Bluff Public Library are thrilled to present their joint nonfiction reading program, Read Between the Ravines. This Two Communities, One Nonfiction Book program brings together Lake Forest and Lake Bluff with the purpose of enhancing nonfiction literacy and inspiring discussion around real-world issues. 
In Unraveled, entrepreneur, researcher, and advocate Maxine Bédat follows the life of an American icon–a pair of jeans–to reveal what really happens to give us our clothes. A sprawling, deeply researched, and provocative tour-de-force, Unraveled is not just the story of a pair of pants, but also the story of our global economy and our role in it. Told with piercing insight and unprecedented reporting, Unraveled challenges us to use our relationship with our jeans–and all that we wear–to reclaim our central role as citizens to refashion a society in which all people can thrive and preserve the planet for generations to come.
About the Author
Maxine Bédat is the founder and director of New Standard Institute, a think and do tank using data to drive accountability in the industry. She is also the author of the book UNRAVELED: The Life and Death of a Garment longlisted for the Financial Times/ McKinsey Business Book of the Year.
Before NSI, Maxine co-founded and was the CEO of Zady, a fashion brand and lifestyle destination creating a transparent and sustainable future for the apparel industry. For its work in sustainability, Zady was named one of the world's "Most Innovative Companies" in retail by Fast Company. Oprah has recognized Bédat in her Super Soul 100 for leaders elevating humanity. She has been regularly featured as an expert by Bloomberg, the Financial Times, The New York Times, Vogue, Forbes, Business of Fashion, and CNN. Bédat began her career in international law working at the Rwandan Criminal Tribunal and Allen & Overy and received a Juris Doctor from Columbia Law School.
ABOUT THE SPEAKER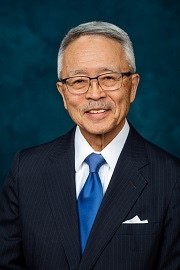 Ron Hirasawa is an executive leadership coach and professor at DePaul University in Marketing. He also lectures on Entrepreneurship, Leadership, Innovation, Ethics, and Strategic Management.  He is an experienced ideation and focus group facilitator.  
Prior to coaching and teaching, he created American Parks & Wildlands, focused on the preservation of ecosystems, and American Marketing Services Corporation, a consulting company. Mr. Hirasawa structured a $100 million Midwest regional snack foods entity with the merger and acquisition of three companies. He worked in sales, marketing, and advertising for P&G, Johnson Wax, United Brands, Leo Burnett, and Don Tennant companies.  
Ron has exported food products to Japan and other countries. He has advised Fortune 500 companies on doing business with the Japanese for the past 25 years. He also advises and coaches managers from Japan and other countries on American culture and business practices.
He served in the U.S. Army during the Vietnam Conflict, reaching the rank of Captain in the Medical Services Corp. Mr. Hirasawa holds a B.S. in Industrial Management from the Wharton School of Business at the University of Pennsylvania, and an MBA in Marketing from St. Mary's University in San Antonio, TX.  
This is a free event.