Harlan Cohen's Happy, Healthy, Almost Stress-Free College Planning & Success: For Parents and Students
College is a BIG change — it's a dramatic change with new challenges most students and parents never see coming.  As a result, millions of students are struggling. New York Times bestselling author of the #1 book on college life, Harlan Cohen (The Naked Roommate: And 107 Other Issues You Might Run Into in College and The Naked Roommate: For Parents Only!) helps students and parents know what's coming and how to create the best college experience.  Harlan exposes and explores the latest facts, stats, and strategies to guide high school and college students as they navigate all the changes ahead.  He helps parents and grandparents know how they can be the best partners along the way. Harlan uses his trademark humor, personal anecdotes, and interactive style to engage audiences of all ages.  
This event is FREE, but pre-registration is required. Please sign up to reserve your spot!
Harlan Cohen is a Chicago based educational speaker, New York Times bestselling author and college experience coach.  Harlan Cohen has spoken at over 500 high school and college campuses, published six books, and writes a syndicated advice column.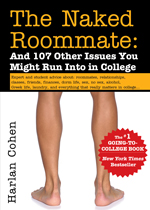 His first book was Campus Life Exposed; Advice From The Inside (Petersons).  Five years later, The Naked Roommate: And 107 Other Issues tops 800,000 copies in print.
Harlan is also the founder of Best First Year (www.BestFirstYear.com).  Best First Year is designed to help high school and college students navigate change. Over 51% of current college students reported feeling hopeless over the past 12 months and only 40% of students will graduate.
Gorton Community Center will take and may use photos and videos from this event for its promotional purposes. Your attendance indicates your consent to the above.
This event is sponsored by an outside party and does not necessarily reflect the views of Gorton Community Center.